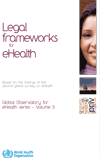 Global Observatory for eHealth series - Volume 5.
Given that privacy of the doctor-patient relationship is at the heart of good health care, and that the electronic health record (EHR) is at the heart of good eHealth practice, the question arises: Is privacy legislation at the heart of the EHR? The second global survey on eHealth conducted by the Global Observatory for eHealth (GOe) set out to answer that question by investigating the extent to which the legal frameworks in the Member States of the World Health Organization (WHO) address the need to protect patient privacy in EHRs as health care systems move towards leveraging the power of EHRs to deliver safer, more efficient, and more accessible health care.

The survey began with a question on the existence of generic privacy legislation followed by questions to establish if specific rules had been adopted to address privacy in EHRs. A series of questions followed pertaining to the way in which privacy is addressed in transmittable EHRs and patients' rights to access, correct, and control the use of the EHR. The investigation ended by broaching the issue of privacy protection in secondary uses of data contained in EHRs, such as for international research purposes.

In the present report the analysis of the survey responses is preceded by an overview of the ethical and legal roots of privacy protection. Focusing on the ethical concepts of autonomy, beneficence, and justice, the report reminds the reader of the early recognition of the duty of privacy in the Hippocratic Oath and goes on to consider how that is reflected in international binding legislation such as the United Nations Declaration on Human Rights and the European Union Data Protection Directive, as well as non-binding international codes of practice.

Download Legal Frameworks for eHealth: Based on the Findings of the Second Global Survey on eHealth (.pdf, 3.311 KB).

Download from eHealthNews.eu Portal's mirror: Legal Frameworks for eHealth: Based on the Findings of the Second Global Survey on eHealth (.pdf, 3.311 KB).

About Global Observatory for eHealth
The Observatory's mission is to improve health by providing Member States with strategic information and guidance on effective practices and standards in eHealth.

Its objectives are to:
provide relevant, timely, and high-quality evidence and information to support national governments and international bodies in improving policy, practice, and management of eHealth;
increase awareness and commitment of governments and the private sector to invest in, promote, and advance eHealth;
generate knowledge that will significantly contribute to the improvement of health through the use of ICT; and
disseminate research findings through publications on key eHealth research topics as a reference for governments and policy-makers.