Legal Frameworks for eHealth: Based on the Findings of the Second Global Survey on eHealth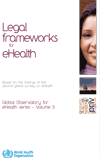 Global Observatory for eHealth series - Volume 5.
Given that privacy of the doctor-patient relationship is at the heart of good health care, and that the electronic health record (EHR) is at the heart of good eHealth practice, the question arises: Is privacy legislation at the heart of the EHR? The second global survey on eHealth conducted by the Global Observatory for eHealth (GOe) set out to answer that question by investigating the extent to which the legal frameworks in the Member States of the World Health Organization (WHO) address the need to protect patient privacy in EHRs as health care systems move towards leveraging the power of EHRs to deliver safer, more efficient, and more accessible health care.