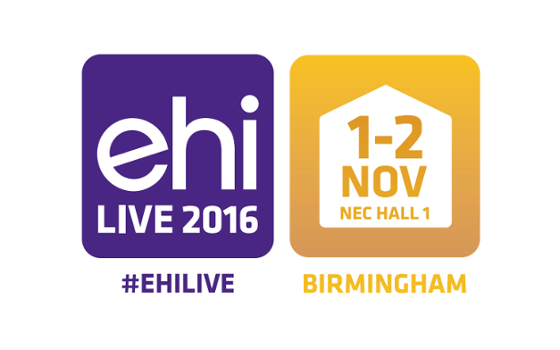 1 - 2 November 2016, Birmingham, UK.
Dr Harpreet Sood, Senior Fellow, Chairman and Chief Executive's Office, NHS England, will speak about health tech and innovation in the ehi LIVE Keynotes conference. A core message will be how digital and technological progress can and will bring about change to help the most important element of the healthcare system - the patients. Improving patient outcomes is at the heart of the 10 free-to-attend conferences which run alongside the exhibition at the UK's largest digital health event, taking place at NEC Birmingham from 1-2 November 2016.

ehi LIVE is working with NHS England and NHS Digital to host the conferences over the two days. With the theme 'From implementation to patient outcomes', the event aligns well with the NHS digital technology priorities: promoting better communication of patient care needs; helping health tech to develop sustainably; and ensuring consistency and reducing variability across the NHS.

Dr Sood's work focuses on two main aspects at NHS England. One priority is prevention, for example, looking at how digitisation can be used in the fight to prevent diabetes.

The other is around digitising secondary care as part of the wider transformation agenda in local geographies and getting all levels of the workforce enthused and engaged about it. "That is why from the centre, we are continuously highlighting why change is important," he says.

"It is important to say for innovators and SMEs that we are at a time where resources are challenging and we are going through a period of transformation and innovation. We need to see some quick wins, but we also need to get leadership across the system about why the investment in innovation and its uptake is important."

Visitors to ehi LIVE will hear the latest about the NHS financial incentives for innovators and SMEs, intended to boost health tech uptake more widely across NHS service providers. The event will also be a forum to discuss the Five Year Forward View commitment to scaling up digital health technology. Visitors to ehi LIVE will find out more about the opportunities presented by NHS England setting up centres of global digital excellence with a £100+ million funding pot.(1)

"The NHS Innovation and Technology Tariff will allow those organisations that are ready to secure services across the system to tap into this tariff and apply for it. If we can identify a whole host of applications that are ready to scale up, the next question is how do we help them from a financial reimbursement perspective," says Dr Sood.

ehi LIVE will also address NHS structural complexities which make it a bigger task for outside organisations to work with the NHS. "From an SME perspective, we see the challenges, and how they end up having to sell to multiple providers and organisations. A lot of them do not have huge sales forces so it is important for us to think about creating an ecosystem that works for all," adds Dr Sood.

"An event such as ehi LIVE brings together such a wide cross section of commissioners, users and developers and it provides a great opportunity to discuss these issues and share ideas which will go on to make a real difference in patients' lives."

Dr Sood joins a number of speakers from NHS Digital, NHS England, the Royal College of Physicians, NHS trusts, GP practices and industry. The programme includes more real life case studies of patient-centred programmes across the sessions, as well as a new clinical track, which will focus on mental health.

Other new features for the 2016 show, include:
the Knowledge Hub featuring leading experts imparting their insight on the latest technologies that are changing the industry;
techUK START UP to present the newest innovative and disruptive technologies in digital health being developed specifically by start-up technology companies;
the two day Developer Challenge tasking developers with creating industry changing solutions live on site to help better NHS processes, in partnership with NHS Digital;
a cyber security zone on the show floor to showcase the latest technology in protecting the NHS from cybercrimes with real industry case studies.
Back by popular demand, the Big Red Networking bus will sit at the heart of the ehi LIVE exhibition allowing visitors, speakers and exhibitors to network, connect and do business.
ehi LIVE is free to attend and over 4,000 visitors are expected including health and care CIOs, COOs, CEOs, health professionals, senior NHS managers, major digital health industry players and SMEs.
To gain fast track access into the exhibition, conference streams, visitors are asked to register in advance.
For further information, please visit:
http://ehilive.co.uk
1. NHS England. 'NHS England offers Trusts over £100 million funding pot to set up centres of global digital excellence'. 4 August 2016. https://www.england.nhs.uk/2016/08/centres-digital-excellence/
About ehi LIVE 2016
Now in its 9th year, ehi LIVE, organised by Informa Life Sciences Exhibitions, is where the UK's eHealth community comes together to discuss and discover the latest challenges and developments in healthcare IT.
A key event in the calendars of all those involved in digital health, ehi LIVE provides a lucrative platform for solution and technology providers to showcase their products and services to the people responsible for taking the UK's healthcare systems paperless.
The show attracts technology enthusiasts from around the UK and beyond and the exhibition gives visitors the chance to see the best that NHS digital technology suppliers have to offer the health service, as well as providing insight into NHS Digital's plans for the future of the service.
The exhibition and all the conferences are free to attend - registration can be completed online at http://www.ehilive.co.uk/register-now/.
The 10 free-to-attend conferences are:
Keynotes - 1-2 November 2016
Integration & Interoperability - 1-2 November 2016
Big Data - 1 November 2016
Mental Health - 1 November 2016
Annual CIO Conference - 1 November 2016
Annual CCIO Conference - 2 November 2016
Open Source, Governance and Data Standards - 1 November 2016
Cyber Security - 2 November 2016
Health & Social Care Integration - 2 November 2016
UK Imaging Informatics SIG Autumn Meeting- 2 November 2016
In addition, the UK Clinical Research Collaboration (UKCRC) will hold its annual meeting at ehi LIVE, and BCS, The Chartered Institute for IT, will run a featured programme at the show.
Conference speakers include:
Beverly Bryant, Head of Digital Transformation, NHS Digital
Liat Ben-Zur, Senior Vice-President, Digital Technology Leader, Philips, Amsterdam
Deb El-Sayed, Director of Digital and MultiChannel, NHS England
Noel Gordon, Chair, NHS Digital
Netta Hollings, Information Analysis Lead Manager, Mental Health Community Care, NHS Digital
Jan Hoogewerf, Programme Manager, Health Informatics Unit, Care Quality Improvement Department, Royal College of Physicians
Rhidian Hurle, Medical Director, NHS Wales Informatics Service
Munish Jokhani, Clinical Engagement Lead - Transfer of Care, NHS Digital
Professor Keith McNeill, CCIO, NHS England
Rob Shaw, COO, NHS Digital
Dr Harpreet Sood, Senior Fellow, Chairman and Chief Executive's Office, NHS England
Jeroen Tas, CEO, Connected Care and Health Informatics, Royal Philips, Amsterdam